People who suffer from a dental abscess are concerned with alleviating the pain, but the real goal of treatment is to eradicate the underlying infection. Patients can try to manage their pain by using non-steroidal anti-inflammatory medications like ibuprofen (sold as Advil) or naproxen (sold as Aleve), but these drugs will not treat the abscess itself. Rinsing with warm saltwater or clove oil can sometimes ease the pain, at least temporarily.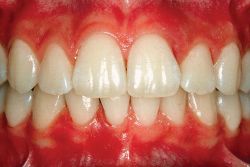 The abscess must either rupture on its own or be surgically drained. If the abscess ruptures by itself, rinsing with warm saltwater will help cleanse the area and encourage drainage of the pus. If the dental abscess does not rupture on its own, or if the pain cannot be controlled with nonprescription products, your dentist may give you prescription pain relievers as well as antibiotics to eliminate the infection. A root canal procedure to try to save the infected tooth may be performed if enough of the tooth's structure remains, but in severe cases the abscessed tooth may need to be extracted.
A dental abscess is considered an emergency condition. If not treated promptly and properly, the bone at the tip of the tooth can erode or a fistula can develop. The infection can also spread throughout your body, resulting in general illness and fever. If left untreated, sepsis, endocarditis or other life-threatening complications sometimes occur.